COVID-19 Changes to Delivery
General
Any COVID-19 related changes will appear here. Normal website information will not be changed unless it becomes permanent. If you have questions or concerns, submit a help-desk ticket or contact Maureen directly at welch@ifls.lib.wi.us.
---
Dating Courier Bins
WALTCO will be using a pricing gun sticker to  label the bins with the date a bin was closed (picture of the label on a Green Bay bin below).  Once you have emptied the bin, please remove the sticker.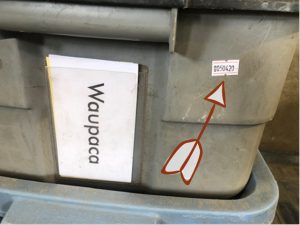 Also WALTCO would like the libraries to label the bins with the date you closed the bin. One method is using masking tape across the lid.  Then if it gets opened after the close, the date on the tape can be updated.
No Duct tape on the bins. 
Masking tape or packaging tape is okay for dating the closed bins, but please do not use duct tape. The courier says that it is difficult to remove & leaves a residue.
---
Courier Quarantine
WALTCO is setting aside WALTCO Sort bins that they pick up for 72 hours before they sort the materials to new bins. Once a sorted bin has been closed, it will be delivered at next courier stop for that library. These bins have a close date on them .
Pre-sort bins and closed boxes will be delivered on next delivery stop even if that is the next day. Please quarantine bins & boxes that you receive per your quarantine time procedure. 
---
Delivery Schedule
IFLS plans to continue the one stop per week delivery to IFLS libraries. We have had a few glitches, but expect to continue delivery on the same day of the week originally scheduled.
Monday

Tuesday

Wednesday

Thursday

Friday

Altoona

Boyceville

Bruce

Dresser

Hawkins

Ladysmith

Amery

Balsam Lake

Centuria

Deer Park

Frederic

Luck

Milltown

Plum City

Prescott 

Rice Lake

St Croix Falls

Bloomer 

Cadott 

Chippewa Falls 

Colfax 

Cornell  

Durand 

Menomonie  

New Richmond  

Pepin 

Sand Creek 

Stanley

Augusta 

Baldwin 

Clear Lake 

Eau Claire

Ellsworth

Elmwood 

Fairchild 

Fall Creek 

Glenwood City 

Hammond 

Hudson

Osceola 

River Falls

Roberts

Somerset

Spring Valley

Woodville

Barron 

Cameron

Chetek

Cumberland 

Turtle Lake 

 

and the Wausau group

 

Ogema 

Park Falls

Phillips