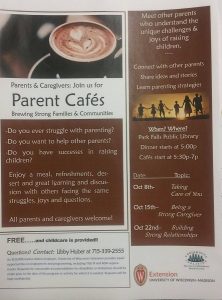 Last year, a grandparent who is raising a grandchild approached Cindy at the youth services desk in Park Falls and expressed a desire for parenting support.  Cindy found her online resources and books, but this person was really looking for more support.  A Parent Cafe in Ashland, Wisconsin was sponsored by the University of Wisconsin Extension–but that was too far to drive with a three year old!
So Cindy reached out to her Extension Family Living Educator, who collaborated with a Price County organization Strong Kids/Strong Families.  A licensed social worker from Marshfield Clinic is helping to facilitate the Parent Cafes.  The meetings take place monthly, and include dinner (thanks to community partnerships and a grant from the Anne Marie Foundation) and concurrent activities for children (provided by the library and a group of adult and high school volunteers).
Cindy is excited that there are families attending and supporting each other, and she has seen new faces in the library that she hasn't seen before.
What a great story of responding to a need in the community, developing partnerships, and working with existing programs and organizations to make something great happen!