Webinar recommendation from Cecelia
Only available until Nov 18! Updating Your Collection: Selecting & Deselecting Materials with Native Content
SCLS Continuing Education & Professional Development – Originally presented on October 20, 2022 by Dr. Debbie Reese.
You have one day to chime in
Here is your opportunity to tell Wisconsin library system continuing education planners (including LEAH) what you would like to learn. Your responses will help shape and develop the offerings in IFLS-land and throughout the state. Click on the 2022 WI Public Libraries CE Topics Survey and select topics for the areas that are of interest to you. Everyone's input is needed and appreciated! You can also suggest topics even in areas we didn't list. This should take you eight (8) minutes or less. Submit your responses by Friday, October 28, 2022.
Questions? Problems? Contact Laurie Freund (ljfreund@bridgeslibrarysystem.org or 262-896-8083).
And this survey for library directors: used for national advocacy and education
2022 Public Library Services for Strong Communities Survey – deadline December 10, 2022 All US public libraries are invited to complete this new survey to help us better understand how public libraries across the nation serve and contribute to sustaining their communities now and into the future. The survey was developed in response to field-wide discussions and interest in actionable data about library programs, services, facilities, and partnerships.  Reasons why your library should complete the survey:
Library leaders need up-to-date and accurate information about the broad range of services libraries provide and the role they play in meeting community needs. PLA will share the results in a freely and publicly accessible report.
Contribute to powerful, actionable, and inspirational results for library staff across the country that can help to answer pressing questions such as:

What are current and emerging types of programs, services, and facilities in public libraries?
How do these services meet community needs and foster resilience?
What types of partnerships do libraries have and how do they support our communities? What challenges do libraries face in expanding programs and services?

The results will provide nationally representative data to inform and engage elected officials, the media, and funders to increase awareness of and support for libraries and library workers.
Your participation helps PLA create tools, resources, and professional development opportunities that are more useful for you in building and advancing services at your library.
The 2022 survey data will create a baseline. When this survey is next administered in 2025, we will be able to see how the field has evolved. We will be able to track and share these trends with the profession.
To access the survey, please go to https://librarybenchmark.org/. Login to your library's Benchmark account, click on "Surveys" and you will see this survey listed under "Open Surveys." If you need to reset your password, use the "forgot your password?" link on the login page, or email plabenchmark@ala.org for assistance. All libraries have free access to Benchmark to complete open surveys, view past survey responses and key metrics, and update contact details. Please submit your library's responses by December 10, 2022.
New on the website
The updated MORE brochure is on the website. Paper copies are on their way to libraries.
Coming up
Are you at the Beyond the Desk workshop? What was your favorite thing? Send it to Reb and she'll include it in next week's digest: kilde@ifls.lib.wi.us
The WLA conference is coming right up, too!
Webmaster Office Hours
Tue Nov 8th 10:00am – 11:00am
The Reluctant Library Advocate, Session 1
Wed Nov 9th 2:00pm – 3:00pm
The Reluctant Library Advocate, Session 2
Tue Nov 15th 10:00am – 11:00am
Random free stuff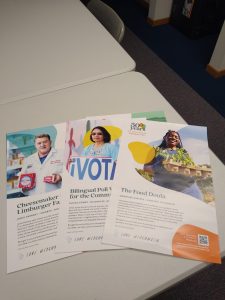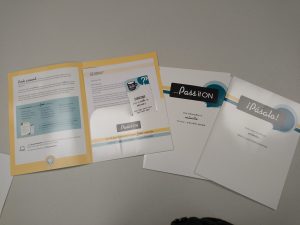 Wisconsin Humanities "Love Wisconsin" project posters: They were distributed one to each library in early October. If anyone didn't receive their poster tube, or would like an extra one, shoot Sarah an email. szymanski@ifls.lib.wi.us 
And two English and two Spanish Fraud Education folders from the FTC. Email Reb for these, first to ask gets them. kilde@ifls.lib.wi.us
Farewell to Al Ross
Our WPR friend Al Ross passed away last week. He recognized the importance of libraries to arts and culture in this region. He'll be missed.