The Weekly Digest is all the best stuff that came across our desks here at IFLS. 
ECF-funded Hotspots
Kris sent out an email on 7/8/22 with all the details about getting and using these hotspots, including availability, filtering, FCC requirements,  possible policy changes and a link to request hotspots. Check your inbox. If you missed it, contact Kris at schwartz@ifls.lib.wi.us.
Deer Park Native Planting
Deer Park received two grants to update the landscaping for migratory birds using native plants (forbs, shrubs and trees). One was from Tropical Wings which is an organization in Hudson, Wi, $500. The other grants was from the St. Croix Valley Master Gardeners, $250. Here's how it looked in April.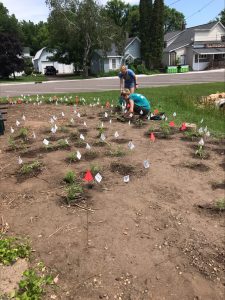 IFLS-member library all-staff picnic
July 15, Phoenix Park Farmers Market pavilion, noon to 4:00 We'd love to see you in person! This is open to any IFLS-member library staff. We ask that you RSVP for food, but you're welcome to stop by even if you haven't sent an RSVP.
It's road construction season! This interactive map can help you navigate street closures. There's a free 4-hour municipal lot across Madison from the Pavillion at 122 E Madison St, Eau Claire, WI 54703, USA. Here's a map, in case you don't do google. There's also some free and paid parking on the street in front of the park.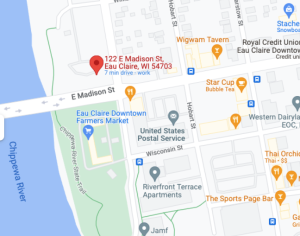 Directions from Chippewa Valley Technical College – Energy Education Center
4000 Campus Road Energy Education Center, Eau Claire, WI 54703
Take Truax Blvd to US-12 E/N Clairemont Ave
3 min (0.9 mi)
Continue on US-12 E/N Clairemont Ave. Take Cameron St to Riverfront Terrace
7 min (3.2 mi)
Turn right onto Riverfront Terrace
Destination will be on the right
Phoenix Park
330 Riverfront Terrace, Eau Claire, WI 54703
For Directors: Advisory Council Openings
(Email from Jo on 7/7/22)
Wisconsin Statutes require each library system to form an advisory body of librarians. The IFLS Advisory Council of Librarians is made up of one librarian from each of our ten counties, one librarian from the resource library, and two librarians from either an academic or school library. Terms are for two years and there is no limit on the number of terms librarians can serve on the council.  The Advisory Council meets two times each year and meetings are open to the public. The Advisory Council elects its chair annually.
This body provides system staff with feedback about plans and programs and discusses issues important to librarians working in the field, such as censorship, technology, personnel, customer relations, and service.
Due to the pandemic, IFLS reached out to all library directors to gather input on plans, budgets, and feedback. We are currently looking to re-establish the IFLS Advisory Council. The first meeting will be held virtually, tentatively scheduled for September 6 or 7, 2022.
Please consider serving on this council. Questions can go to Jo (gardner@ifls.lib.wi.us).
| | | |
| --- | --- | --- |
| county |   | Term through |
| Barron | Vacant | 2023 |
| Chippewa | Joe Niese, Chippewa Falls PL | 2022 or 2024 |
| Dunn | Vacant | 2023 |
| Eau Claire | Vacant | 2023 |
| Pepin | Christy Rundquist, Pepin PL | 2022 or 2024 |
| Pierce | Vacant | 2022 or 2024 |
| Polk | Su Leslie, St. Croix Falls PL | 2023 |
| Price | Deb Hyde, Park Falls PL | 2023 |
| Rusk | Vacant | 2022 or 2024 |
| St. Croix | Karen Furo-Bonnstetter,  Woodville PL | 2022 or 2024 |
| Resource Library | Vacant | n/a |
| Special Library | Vacant | 2022 or 2024 |
| Special Library | Vacant | 2023 |