It's a doozy!
Phillips in the news
In September, Becky and Jake were interviewed for a piece by Wisconsin Public Radio station in Rhinelander.  It's about a five-minute listen.
IEEE Grant Opportunity
The Institute of Electrical and Electronics Engineers (IEEE) Science Kits for Public Libraries (SKPL) Grant project is offering up to $2,000 per library in funding for public libraries across the Midwest for 202​3. The grant is focused on the creation of ​a ​circulating science kit​​ collection for primary and secondary education students (K-12). Applications will be accepted from public libraries ​in the IEEE Region 4 ​from November 1, 202​2​–January 16, 202​3​.​  ​Those libraries which have previously applied for the grant but have not received funding are invited to submit again.
For ​grant program details​, visit the​ SKPL website. Contact ​Doug DeBoer ​(Douglas.DeBoer@Dordt.edu​)​ with any questions.
What do you want?
Here is your opportunity to tell Wisconsin library system continuing education planners (including Leah) what you would like to learn. Your responses will help shape and develop the offerings in your region and the state. Click on the 2022 WI Public Libraries CE Topics Survey and select topics for the areas that are of interest to you or your staff. You can also suggest topics even in areas we didn't list. This should take you eight (8) minutes or less. Submit your responses by Friday, October 28, 2022.
Questions? Problems? Contact Laurie Freund (ljfreund@bridgeslibrarysystem.org or 262-896-8083) or Leah at IFLS (langby@ifls.lib.wi.us)
Help our bookish friends!
Can you help promote the Chippewa Valley Book Festival?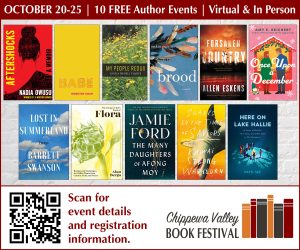 Coming Up at IFLS
Fri Oct 7th 10:00am – 11:00am MORE Executive Committee Meeting
October 13 at 10a – MORE Bibliographic Records and Standards
Thu Oct 20th 2:00pm – 3:00pm Marketing Is Not a Dirty Word
Fri Oct 21st 10:00am – 11:00am Library Director Check-In
Wed Oct 26th or 27th Beyond the Desk: A Workshop for non-management library workers
Go to the calendar for all the details.
Highlighted training opportunities
Ryan Dowd
The Institute for Museum and Library Services and the Department of Public Instruction's Public Library Team supports monthly and core trainings from Ryan Dowd.  If you are interested in previous webinars OR in the core training, check out the Niche Academy site from DPI (different from the IFLS Niche Academy site).
October's Live Training October 10, 1- 2 pm
Homeless De-Escalation 101: Trauma basics & the five most important seconds of conflict. Topics:
How your actions influence the person's brain (and behavior!)
Four specific ways that conflict can be more challenging when you work with people who have experienced trauma.
Five de-escalating tools that you want to get right.
Video examples of how to enforce rules and deal with upset customers.
Pre-Registration Required. A recording (with closed captioning) will be available on NicheAcademy.com a few days after the live event.
BadgerLink Training
There are so many great resources available for library staff and the public on BadgerLink, but it can sometimes be tricky to navigate.  Join BadgerLink's trainer Jen Champoux for a whole series of 30 minute BadgerLink trainings this fall, including Consumer Reports, Archive of Wisconsin Newspapers, Public Library Resources, and more!
A new statewide calendar
In a collaborative partnership addressed during the Public Library System Redesign (PLSR) process, the DPI Library Services Team and the Wisconsin Public Library Systems are excited to announce the Wisconsin Libraries Professional Learning Calendar.
Hosted by DPI using the Team Up platform and curated by the Public Library Systems, the calendar brings together learning events from Wisconsin library systems, associations, DPI Library Services, and other groups all in one place. Public library directors, staff, and trustees are now able to find relevant professional learning without searching multiple calendars and websites. Most events are Wisconsin-based, however major national library conferences are also included.
Search for specific events or browse by categories such as Interest Areas, event host, whether the event fulfills the technology requirement, and more. No account is needed to use the calendar. A User Guide is also available for quick reference.
Find the Wisconsin Libraries Professional Learning Calendar on the DPI website,  on the IFLS website, or by bookmarking the Team Up link.
Fall Colors!