Toolkit: Explore MORE 2023 Passport Campaign
Watch this page for updates and developments! Questions? Contact Reb at kilde@ifls.lib.wi.us
You all do a great job and sometimes I feel like I'm preaching to the choir. What else do you need? Submit a HelpDesk ticket or email me at kilde@ifls.lib.wi.us
May: focus on engagement
This month's suggestion is to focus on engagement.
A main focus for the passport program is to remind participants that libraries are welcoming civic spaces that have something for everyone.
Some ways to engage:
Help participants feel welcomed.
Invite them to an upcoming program or event at your library.
Ask if you can help them find anything. Point out your library's promotional materials.
Encourage people to use #ExploreMORELibraries on their social media accounts. If they post photos they'll be considered for a photo contest at the end of the program. It also gives you opportunities to have a conversation with people who are motivated enough to participate and post!
Passive programming: a scavenger hunt, a bulletin board to share their favorite local places, your favorite one
Prizes
Grand prize for adults:  Carhartt waist pack, 10-oz Yeti travel mug, Wisconsin Park Pass for 2023 04 2024, $25 gas card
Grand prize for teens:  Waist pack, fidget toy, earbud case, $15 gas card
Grand prize for kids:  L.L. Bean backpack, Bug Hunt Backpack Explorers activity book, Pop-up Porta Bug habitat, magnifying bug boxes
Fabric arts basket:  a collection of wonderful fabric arts supplies for your next project
Runner up prizes TBD.
Social media
Four posts to use. Right-click or control-click on the image to download. If you want to customize with your library's logo, all four posts can be found at this Canva link.
Suggested content (remember to always link back to your website or FB page):
1. "April snowstorms bring May adventures" You could mention any spring-themed programs you have, or if you have a seed exchange. If not, just say, "We're so glad it's finally spring in Wisconsin! There's so much fun stuff to do around (name of our town). We'd love to tell you about it when you stop in to the library to get your passport stamped. #ExploreMORELibraries"
2. "If you use #ExploreMORELibraries on your social media posts it's easy to share your adventure with other explorers!"
3. Use this link to this list in the MORE online catalog: https://more.bibliocommons.com/list/share/2085701409/2301294489, or create your own list from your collection. "We're delighted to share information about our regional fabric arts businesses! This list includes some of our favorite books and a downloadable pdf list of business locations. Tell them we sent you! https://more.bibliocommons.com/list/share/2085701409/2301294489  #ExploreMORELibraries"
4. "Take your book for a ride! Do you have a favoriate biking or hiking trail? " Mention if you're near a trail or park, and if you loan out bikes, park packs or other library of things items that fit the post. Finish with #ExploreMORELibraries.
April Toolkit: Whee!
You should have your passport kits. If it didn't get to you by Friday, April 21, send a HelpDesk ticket asap. If an item doesn't have an active link it means it's in process.
Social Media 
Countdown! Click on the images to download or use the Canva link.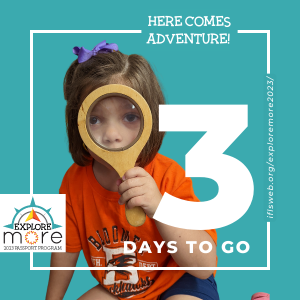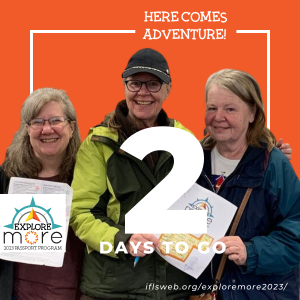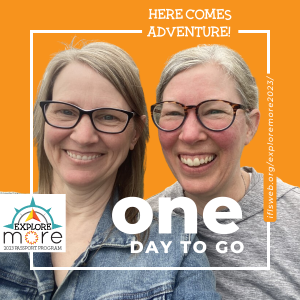 Launch!
Just added on Thursday, April 20. Use this link to download: https://iflsweb.org/wp-content/uploads/2023/04/Lets-go-Explore-MORE-van-animation.mp4 (not a Canva link)
A little animation to post week of April 17 or anytime! Feel free to use throughout the summer. download from link: https://iflsweb.org/wp-content/uploads/2023/04/Explore-MORE-van-animation.mp4 (not a Canva link)
To post the week of April 17 or 24: Explore MORE Passport Program starts April 24, 2023. I'll forward detailed prize information. Link to: https://iflsweb.org/exploremore2023/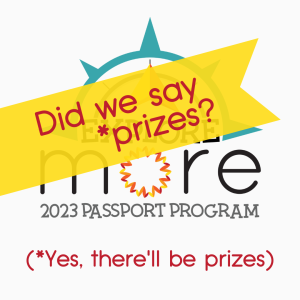 March Toolkit: Building Anticipation
People are getting excited! Ramp up the anticipation for the April 24 launch day. Include an article in your newsletter or create a press release with the information here. Put up a poster and use the social media posts to get the word out.
Poster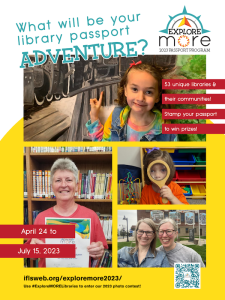 "Coming Soon" poster pdf or Canva template
Social Media 
Click on the image to download. Canva template link is for all three posts.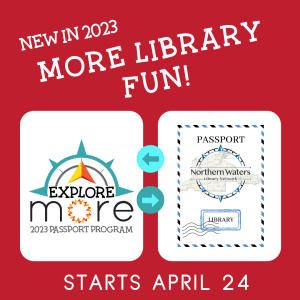 To post the week of April 3: We're so excited that our neighbors to the north decided to create some passport fun! Visit these libraries for a bonus stamp on your Explore MORE Passport! https://nwls.wislib.org/library-directory/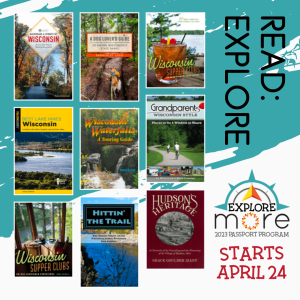 To post the week of April 10: Bring the library with you! Before you hit the Explore MORE Passport trail check out our favorite guides. Link to: https://more.bibliocommons.com/list/share/2085701409_explore_more/2085792399_explore_more_great_guides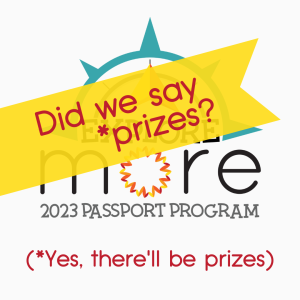 To post the week of April 17: Explore MORE Passport Program starts April 24, 2023. I'll forward detailed prize information. Link to: https://iflsweb.org/exploremore2023/
Print Media/Radio Press Release
This is content taken from the public facing page. This should give you all the details you need to write your article or press release. Contact Reb (kilde@ifls.lib.wi.us) if you need additional support.
By popular demand, the Explore MORE Passport Program is back for a second year! Go to public  libraries to collect passport stamps for a chance to win prizes. At the same time, explore our beautiful communities with unique local businesses, parks, museums and more!
How to be an Explorer
1. Stop by any participating MORE library to pick up your passport, or download your passport start April 24, 2023. Passports can be stamped from April 24, 2022 until July 15, 2022.
2. There are two ways that you can get your passport stamped.
Visit any MORE library to get a passport stamp. While you're there, you might want to check out an item, participate in a fun program or activity, or sign in and use a public computer. Your library might have other great events coming up, or suggestions about other activities in the community, so be sure to ask!

Can't travel? Call any MORE library and ask the librarian for a book or movie recommendation, or ask a question about the library or the community. You'll get a secret code to add to your passport. Please don't share your code.
Only one stamp or code per patron per library with this exception: you'll get two stamps for visiting the Bruce Area Library, Rusk County Community Library in Ladysmith, Ogema Public Library, Phillips Public Library, Park Falls Public Library (Price and Rusk counties).
New this year! Visit up to five libraries outside of the MORE library system and get credit for one stamp per library!
3. For every ten stamps or codes you collect, go to a MORE-member library and get an entry form for a chance to win prizes. You may enter up to five times.
4. The prize drawing will occur on August 1, 2023. Winners will be notified using the contact information on their entry form. Staff of IFLS Library System and MORE libraries are not eligible to win.
Prizes
Grand prize for adults: adventure pack
Grand prize for kids: adventure pack
State Trail Pass
State Park Pass
Watch this space for details!
Plan Your Adventure
Most of our libraries are in rural areas that may not have cell coverage. (All MORE libraries have public internet access.)
We encourage you to find and download directions to your destinations!  You also might want to call ahead to confirm program details and open hours, especially if it's a long drive for you.
Find a Library
The MORE app allows you to see locations, details and directions for all MORE libraries on your phone or mobile device. Find "MORE Libraries" on the Google Play or the Apple App Store.You can also find links to library websites on the MORE online catalog.
This is a digital version of the instructions from your Passport Kit, and has everything you need to participate. Questions? Submit a HelpDesk ticket or contact Reb at IFLS (kilde@ifls.lib.wi.us). All toolkit info is on the IFLS Article Index (search "Explore MORE toolkit").   
Passport  checklist 
Let's get started! In this kit you'll find the following items. Take a minute to customize your kit. 
Printed Passports.

Note how many passports you received. You can always order additional passports by contacting Reb at IFLS. 

 

Participation poster(s)

to display in a prominent place.

 

Write in your library name on each entry form in the shaded box. Abbreviations are fine! This is for our records. Here's the

 

entry form master if you need to make an additional copy.
Stickers to hand offer when a passport is stamped. You only got a couple stamps to start, more will ship Friday, April 21.

Use this sheet to

make copies

of the entry forms as you need them. 

Instructions on how to process the entry form are below.

 

Tally sheet

with instructions. This is your record of program participation for the annual report and is how we'll track participation in the program as a system. You'll return the tally sheet to us on July 15. 

 

Stamp and stamp pad.

Master sheets of itineraries to copy (new this year).

 

Instructions.

 

Optional! Add your customizations.

 
How-to: Step by Step
This is your chance to let visitors know about all the great things at your library! Each time you hand out a passport, stamp a passport or accept an entry form you have a chance to engage with your visitor. Here are some ideas that you could pick from.  
Hand out a library brochure or flyer with the passport.

 

Point out a passive program to participate in, like a scavenger hunt.

 

Tell people about any upcoming events or special exhibits (cross-promotion).

 

Point out the itineraries and any other community highlights you'd like to share.

 

If your library has a swag bag offer it to your visitor.

 

Ask if you can help your visitor find anything.

 
Set up 
You got one or more participation posters in your passport kit from IFLS. Hang them where people will see them. .

 

Identify a place that people will go to get their passport stamped. Most libraries last year located the stamp at the circulation or information desk. Hang a poster at that location as well, and stock it with: 

 

the stamp and stamp pad 

 

tally sheet

 

stickers to offer when you stamp a passport

entry forms, entry form prizes won't arrive until April 29.

passports 

Itineraries (new this year)

 

anything your library wants to add (swag bag, bookmarks)

 
Hand out passports
Anyone can get a passport, so you can put these out in a display along with the itineraries. We'll be keeping track of how many passports we hand out, so please keep track of any additional passports on the tally sheet.  
Passport stamp for in-person participants
NOTE: One stamp per person per library. Exception is Price and Rusk county libraries that get two stamps each.  
Passport stamping should NOT be self-service.

 

Stamp the gray star in your library's information. Price and Rusk counties have two stars. 

 

Immediately stamp the tally sheet as well. The tally sheet tracks visits, so only one stamp on the tally sheet per person including Price and Rusk counties. 

 

Offer a sticker
Passport Stamp for phone-in & E-mail participants
Your phone code is your 2-letter IIRC code followed by the first 2 digits of your routing number. Write this code on your tally sheet. If you need help figuring out what that is, submit a HelpDesk ticket.

 

ALL phone or email passport requests count as one stamp, including Price and Rusk counties. 

 

Phone and e-mail participants will be asking for a book, movie or music recommendation. You could leave that up to each person or create a list ahead of time that people can use. 

 

Once you've answered, give them their code.

 

Stamp the tally sheet like you do with an in-person visit.

 
Handing out and collecting entry forms
Make copies from the entry form master with your library name on it to hand out.

 

Verify that the participant has 10 stamps.

 

Put a big "x" over the ten unused stamps. Remember that Price and Rusk county libraries each count as 2 stamps.

 

Give the participant an entry form and a small prize. These are taking longer than expected to ship. If you don't have one on hand, note that on the entry form. I'll get one to them later.

 

When you collect the entry form make sure that the name and contact info is legible, and that they've checked the prize drawings they want to participate in.

 
New This Year
CVTC Academic Library and Cornell Public Library will be joining us this year!
Here's some information about CVTC from Jen Cook (jcook34@cvtc.edu)
Our learning center is located at the Eau Claire Campus, the Business Education Center 620 West Clairemont Street, Eau Claire, WI 54701.  Visitors can park in the short term visitor lot. CVTC is the only academic library in the MORE system.  We serve students, faculty, staff and community members are welcome as well.  We collect academic texts that might be useful to families needing research materials, as well as popular fiction and nonfiction, YA and children's books, audiobooks, periodicals and DVDs. 
In addition to traditional library materials we collect a variety of items in our Library of Things.  Items include board games and puzzles, cookie cutters, a variety of equipment, ties for job interviews, frisbee discs and an ukelele. 
Cornell Public Library will go live with MORE as early as July 15. I can't wait to visit in person!
Welcome to them both!
Northern Waters, OWLS and Nicolet create passport programs
Northern Waters Library Service area libraries are joining the fun! Northern Waters libraries will stamp our passports (there's a spot for 5 non-MORE library stamps). OWLS and Nicolet systems are doing a one-month program. Please stamp their passports, too!
Itineraries (or explorer guides)
Coming soon: Historical museums and golf
Staff-only passports
You are awesome! 
1. Visit libraries to get stamps. 10 stamps = one entry for prizes
2. The staff program will run from April 24 to September 1, 2023
3. New this year! 
• Cornell Public Library and Chippewa Valley Technical    College (CVTC) are our newest MORE libraries!
• Visit up to five non-MORE libraries for one stamp each.
4. Can't travel? Call or email a MORE library and share your favorite library tip.
5. For in-person, only one stamp or code per patron per library with this exception: visiting one of the following libraries in person gets you two stamps! Bruce Area Library, Rusk County Community Library in Ladysmith, Ogema Public Library, Phillips Public Library, Park Falls Public Library (Price and Rusk counties).
6. On September 2, send your stamped passport back to IFLS by courier. We'll do a drawing for staff prizes on September 15. 
7. Have fun!
Your passport
Either download this passport that will print on 8.5×11 inch paper: staffpassport2023
OR
Use one of the preprinted passports and write STAFF in big letters on the front. 
Logos, Fonts, Printables, Your Code
Logos and fonts
Items from your toolkit
Tally sheet and 2023 instructions  (included in the passport kit sent to your library) For phone and email passport participants use your IIRC 2-letter library code followed by the first two digits of your library terminal #
entry form pdf
printable passport formatted for home printers (letter size)
Pre-printed posters (lined below)
Posters
Passports
If you find yourself short on passports, you can print a few on your in-house computer until you get restocked from IFLS. You could print a letter-sized or tabloid sized version.
Social Media
Booklists
Explore MORE: Our People, Our Places These are some of our librarians' favorite books set locally or by local authors. Start here to find a fun read to accompany your Explore MORE Passport adventure! (Adult fiction and nonfiction.)
Explore MORE Passport: Just for Kids Books to bring with you on your Explore MORE Passport adventure!
Explore MORE: Great Guides We picked our favorite guides to get you started on your Explore MORE Passport adventure! (If you can't find what you want here, your librarian is happy to suggest other options!)
Marketing Committee
This program was developed by the IFLS Marketing Committee. Contact any of these committee members with questions.
Rebecca Kilde (kilde@ifls.lib.wi.us) and Bridget Krejci (krejci@ifls.lib.wi.us), IFLS staff
Cricket LaFond, Director, Clear Lake Public Library (clafond@clearlakelibrary.org)
Michelle Johnson, Director, Hammond Public Library (mjohnson@hammondpubliclibrary.org)
Laura Turpin, Youth Services, St. Croix Falls Public Library (lturpin@stcroixfallslibrary.org)
Karen Couch, Marketing & Tech Services, Thomas St. Angelo Public Library of Cumberland (karenc@cumberlandpl.org)
Mary Hebda, Director, Ogema Public Library (maryhebda@ogemalibrary.org)
Expectations
Minimal Required Participation: Each library will be asked to have passports and entry forms on hand to pass out, and appropriately stamp passports (not self-serve). Please pass out stickers to anyone who fills out an entry form (ten visits).
Add-ons encouraged: Libraries are encouraged to partner with other MORE libraries and local businesses to expand the passport program locally.
Goals
Primary Goal: Increase visitor traffic in libraries.
Secondary Goals:
Demonstrate the MORE system: you can check a book out from Rice Lake and return it to Ellsworth!
Lead up to Summer Library Programs.
Promote the MORE app.
Increase circulation, expand the number of card-holders.
Cultivate partnerships between libraries and local businesses.
Q & A
Submit your questions with a HelpDesk ticket.
Q: My stamp pad isn't working very well. Can I use my own stamp pad?
A: Yes!
Q: When should people get stickers?
A: When they completed their first ten visits. Each library got 9 stickers. Let me know right away if it seems like that won't be nearly enough, and I'll order some more.
Q: What if someone loses their passport?
A:We didn't think of this, but maybe suggest that people put their name on their passports. (Definitely adding that in the future!) Here are suggestions from the committee. We're making an assumption of honesty here. (I'll be able to tell on the IFLS end if people have submitted too many entry forms! Individuals are limited to 5 entries.)
Suggest that they call the libraries that they've visited to get a code. They would only need to contact libraries they haven't yet submitted for an entry form, or
Ask if they remember the lost libraries. Again, they'd only have to reconstruct libraries that haven't been submitted for an entry form.
Q: Can I get additional supplies?
A: You bet. I have spare stamps and stamp pads, and will print more passports on demand. BTW, you can also print more passports yourself. Keep track of how many you print on your tally sheet, and request reimbursement for that cost.
Q: Could you clarify for me the purpose of the highlighter? Is it to mark which MORE libraries are participating in the Passport program? If that's the case, how do we find out who's participating?
A: The highlighter is to mark 10 libraries that people redeem for an entry form. So somebody comes in and says, "I visited 10 libraries and now I'd like my entry form." You would mark with highlighter the 10 libraries that they're using to get the entry form. That way those libraries couldn't be used twice.
Barb (Deer Park) suggested this wording: Step 1: Verify that the participant has 10 library stamps that have not been crossed off for entry. Step #2: When counting a library stamp for entry cross it off with the highlighter.
Q: Can people email for the remote code?
A: Email as well as phone are just fine ways to engage with the library to receive your passport code. Use your discretion with email: if it looks like phishing or just something super weird, you can ignore as you would with any phishing or inappropriate emails.
Q: Where are the entry forms?
A: You got one sheet to use as a master in the original toolkit that came in courier. If you've misplace that, go to the Logos, Fonts, Printables header and click on the entry form pdf.
Q: About the prizes, are the trail and park pass for 2022 or 2023?
A: The winner can choose. The 2022 passes would be sent out in July after the drawing. If the winner prefers 2023 passes, those would be sent out when they become available, sometime in late 2022 or early 2023.
Q: We're in Rusk County. We mark our visitors' passports with two stamps. Should we put two stamps on our tally sheet, too?
A: No, the tally sheet is keeping track of visits. Just put one stamp per visitor on your tally sheet.